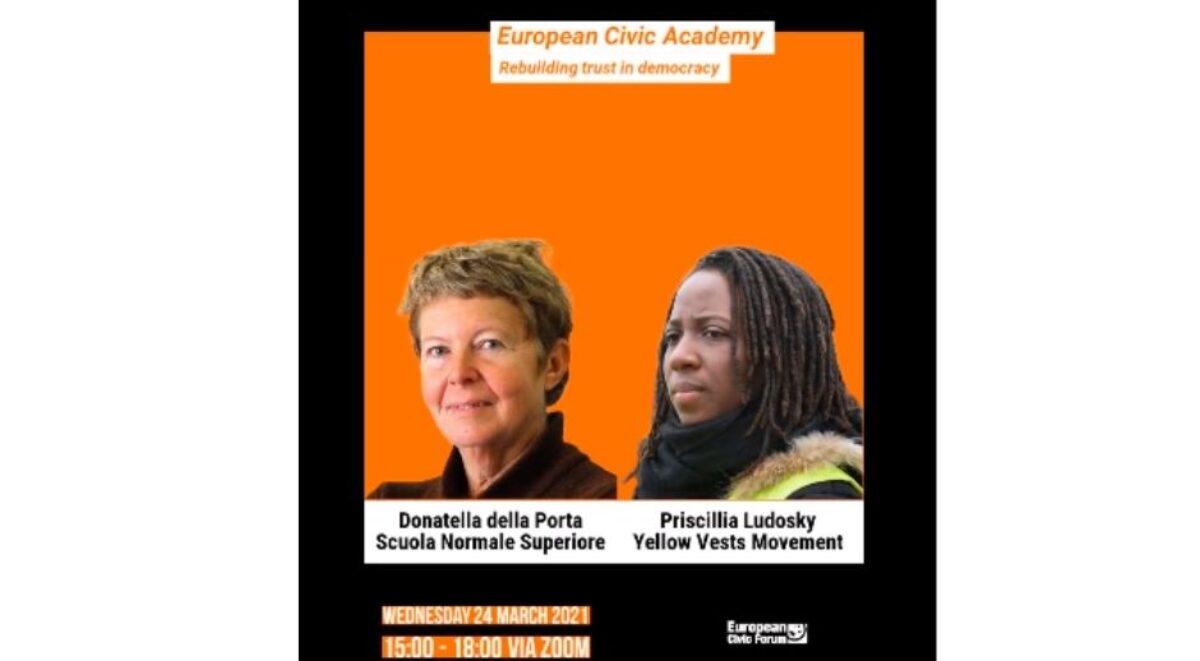 European Civic Academy
Rebuilding trust in democracy: challenges and opportunities for civic activism
An event Rebuilding trust in democracy: challenges and opportunities for civic activism have been organized by European Civic Academy on March 24, 2021. It was a unique opportunity to gather academics, grass-roots activists, and professionals in fruitful discussion on the current state of European democracy. The European Civic Academy organizes events on behalf of the European Civic Forum. This forum, of which IDC is also a member, is a pan-European platform where organizations, NGOs, activists, and academics can come together to share ideas about transnational citizenship and European citizen participation. It was underlined that we are in the moment of the greatest crisis since World War II. The COVID-19 outbreak, the tilted capitalist system, and globalization have resulted in significant economic, social and environmental problems and the division in European societies puts our democratic values ​​under pressure. This pressure has also become visible because more and more civil actors are on the move who stand up for citizens' interests. In the session, activists and academics were brought together to identify where they could complement each other and find answers to questions such as: what do activists think are topics that academics should explore? What are the priorities here? Moreover, what knowledge has been developed that can support activists?
Activism
Priscillia Ludosky, a figurehead of the yellow vest movement in France, has presented her main finding. In her experience, campaigning has removed little frustration from citizens. She said this was due to the government's late reactions to the protest group's actions and the significant role the media played in how the protest group was often portrayed as hostile. The idea that a hostile image of protest groups and activists is often portrayed was often labeled problematic. According to most attendees, a stronger focus on the commonalities between citizens and trying to understand each other's frustration was an important step forward. She underlines the responsibility of mainstream media in France in spreading the hostile news, focusing on identity topic immigration and other topics that divide people.
On the other hand, many people in France are interested in other topics such as unemployment and similar. Moreover, she mentioned that many people in France do not know about the Citizens Assembly's existence as a vital feature of citizens' civic participation. Thus, according to her, the mainstream media must improve intersociety dialogue by providing and spreading good messages, without focusing on the topics that divide people and make people afraid of the neighborhoods, afraid of the colleagues.
Fostering integration – reflection from Germany
Susanne Huth, a representative of INBAS organisation, presented the immigrants' grass route organisations' historical overview. She underlined that in Germany since the 1960s, there has been the development of a very diverse and heterogeneous landscape of migrant organisations. So-called guest workers in Germany started to organise themselves about common objectives. In the beginning, they found volunteer associations and initiatives addressing the needs and the lack of information and lack of access of migrants to social services at other opportunities in Germany. At the same moment, they gather to preserve their culture and language, but then immigrants started to found associations such as sports social orientation and support education, health employment, and interest representations. In the early 2000 years, federal authorities set up programs for supporting and promoting migrant organizations since there has been a recognition that they need to be strengthened and they need to be supported to facilitate their potential regarding social inclusion of migrants. She shared one example of good practices that have been implemented two years ago when the Migrant Parents network was lobbying for parents so that they can be empowered to help their children to get access to school and to participate in education and so bring on equal opportunity especially in the field of education.
Ehsan Djafari, a representative of the Iranian community in Germany, presented the Iranian community's challenges in Germany, among other issues. Controversial debates on the integration of migrants and their participation in Germany in recent years have shown that integrating migrants is becoming increasingly crucial through organisations that have an essential role in the integration process. Almost all integration political and social tactics need to be based on the adequate orientation of integrative activities. It is crucial to develop the necessary support structures to engage migrants of Iranian and Afghan origin committees as an active part of the migrant self-organizations. Consequently, as a legitimate expression of cultural self-determination and active civil society in Germany can build bridges between immigration organisations and civil societies organizations, which practices solidarity and gives its members a feeling of belonging to German society.