Today, IDC's three-year long commitment to support and help migrants on the route through Serbia ends. During these three years, apart from the medical assistance that was the main component, IDC was engaged in the provision of humanitarian assistance, the implementation of volunteer activities and activities dedicated to strengthening cohesion in the local community. With the closing conference we gathered a large number of associates, friends and stakeholders with whom we honored our common achievements and discussed our future plans.
Speakers of the first panel, moderated by ASB Director for Serbia Gordan Velev, were Ketrin Ciganovski, representative of the German Embassy, ​​Ivan Gerginov from the Commissariat for Refugees and Migration of the Republic of Serbia, Hans Friedrich Schoder, representative of  UNHCR, and Nikolas Bizel from the EU Delegation to Serbia.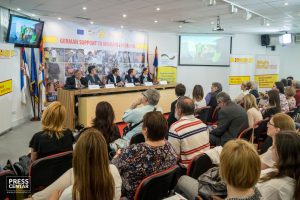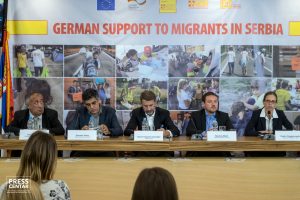 Second panel speakers, were Dr Vesna Knjeginjić, Deputy Minister of the Ministry of Health of the Republic of Serbia, Ivan Gerginov Deputy Commissioner for Refugees and Migration, Dr Periša Simonović from the Institute for Public Health Batut and Dr Krsto Kureš, director of Health care center Sid and Dr Predrgag Zivotic, from World Health Organisation. The panel was moderated by the Director of IDC, Miodrag Nedeljković.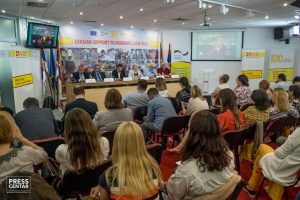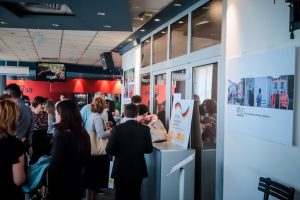 Medical teams are supported within the projects funded by German Federal Foreign Ministry and implemented in cooperation with Arbeiter Samariter Bund SEE, as well as through the project Our Community Infirmary supported by ASB Bavaria and projects supported by a group of Spanish donors implemented by IDC . Over the past three years IDC medical teams have realized 52,403 medical interventions. At one point, 7 medical teams engaged, 2 mobile medical teams, dental clinic in Šid,  medicines and medical equipment, medical vehicles, and volunteer teams a are just a part of the activities that contributed to providing quality humanitarian response to the needs of migrants in Serbia.