IDC is now a certified hosting organization within EU Aid volunteers program
Over the last year, within the EMPACT project, we have worked on developing the organization's policies in regards to the requirements of the EU Aid Volunteers program. The project was funded by the European Commission and implemented through a series of educational workshops and field visits. The development of a policy framework was further supported with mentoring and monitoring by prominent experts in fields of concern of each policy. Furthermore, the policy framework was developed in regards to the Core Humanitarian Standards in order to guarantee the quality of humanitarian work provided by our organization.
We are honored that the European Commission recognized our humanitarian work and policy framework compliment with their standards.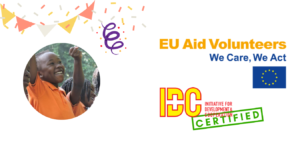 At the moment IDC has submitted two project applications for the deployment of volunteers together with partners from EMPACT project, as well as with partners from MPDL the Spanish organization IDC originated from. While we are looking forward to hosting volunteers in Serbia we are also closely monitoring the developments regarding the new volunteering program for young people in Europe and beyond expected to be launched in 2021. The main change refers to the merging of the European Solidarity Corps and EU Aid Volunteers program bringing together volunteering, traineeship, and job opportunities for young people with a clear focus on solidarity projects.
As IDC is active and certified in both of the programs, we are hoping to take an active part in shaping the future of volunteer sector in Serbia and Europe.