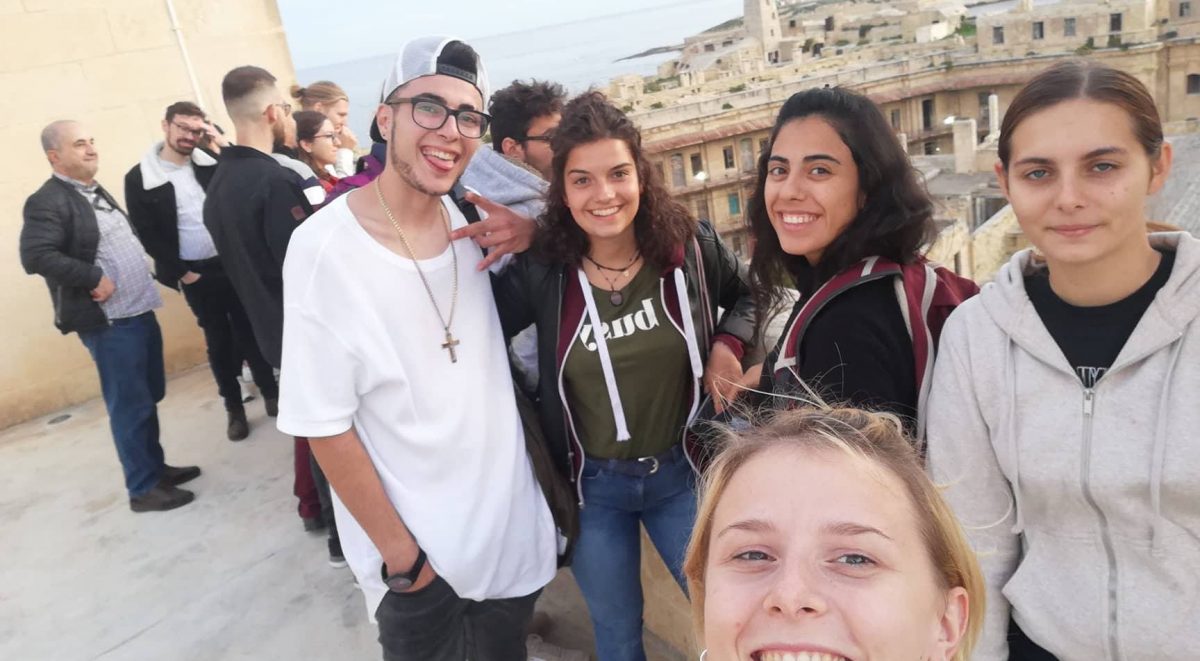 Volunteering in Malta, organized by Inspire, which deals with children with autism, within the European Solidarity Corps program
By: Dunja Rilak Even when I was a kid in high school, I came across stories about people going to feed turtles or building a house in a small province in the south of Spain during the summer holidays, and like every summer I put off my Spain or Provence, building a castle and rejecting in the Swedish forests where the day never dawns, constantly thinking that the experience belongs to someone else.
At one point, I abandoned that idea and replaced the world's provinces with seasonal work in the kitchen, which I was not happy about, and which I had to do because I could not find a job. However, towards the end of the summer last year, I received an invitation from a friend that an unknown girl had given up volunteering in Malta, and if I wanted, I could enter the European Voluntary Service program instead. I don't think it took me long, somehow the old dot from the bucket list came back as a springboard for action and research.
I was sure what I didn't want to do at that moment, and what was just waiting for me was a stranger who instilled hope that something would turn around. I decided to leave within two or three days, and left in a week and a half. In all that turbulence, I found again what I love about the world I live in, what I love about myself, as well as the fact that I have determined what no longer benefits me in life as I step into my thirties. Since the introduction, I have been making this move, quickly sketching lightning-fast decisions because if I had thought a lot about the humidity in Malta, my comfort zone would have decided not to leave. This is how I actually figured out how much that moisture is not a problem, and how much I had to go out into the world and judge by its corners to understand what it really means to me in life. To separate the essential from the irrelevant and the useful from the useless. A million things would have shaken me if I hadn't listened to that need to move, learn and get to know each other.
In Malta, I volunteered at the NGO Inspire, which provides therapeutic support to children with autism. She is very famous and everyone who mentions her openly shows how much they value their work. As an organization that sensitizes society and reduces the stigma towards people with autism, they are constantly striving to increase the visibility and inclusion of people with autism through various activities such as marathons and races, and various other sports activities. As a volunteer, I worked with children of different ages, from three years and older. Children with autism literally shatter your assumptions about the world, and that realization meant a lot to me on a personal level, but it was also important to me as a graduate sociologist. When I say assumptions about the world, I primarily mean their ways of expressing themselves – to show satisfaction, disagreement, their talents and tastes. The ability to design a world for yourself and fight for your authenticity, and you can't speak or speak very little and is simple, is a challenge for them in terms of that need to be accepted for what they are. The insight that the world has more perspectives and nuances through which you can be experienced and accepted came from these children, whom I can say I know in a certain way.
In addition to working with children, I also met young volunteers from all over Europe. One language – English, ran through our cultural features that we took with us, and universal views of the world. Something that is considered European cultural values, what we as individuals are, and what is the history of our families was woven into international dinners and joint activities. The ways in which we described others and their actions, made assessments with whom we end up sharing a bench by the sea is a kind of volunteer everyday life that connects you with people and shows how often we have the same view of life. It doesn't matter that you would never understand each other if it weren't for English, there is a common denominator for why you are here and what you want to achieve. I became so close to some people that we would start speaking in our own languages, and with laughter commented on how awful it would be to speak in one of our mother tongues. I carry these people through all my lives, regardless of the language, but I also call them in their languages, from which I picked up a few words.
From this small island in the Mediterranean Sea, I took with me an important insight that sometimes it is good to do something for others, something that does not require anything in return – progress, a certificate that you have succeeded or failed. Volunteering and working with the wider community just gives the impression that you are doing something right, universally right, if you understand me? Although they tell you to do the first thing in your yard, I tell you that it is best to do it in both. By volunteering, you will gain informal experiences that can later be useful to cope with different situations, places, to be more sensitive to differences and probably more perceptive. Pack up on someone's call or call yourself, it's an experience that is aimed at other people who may not be able to give you anything in the first place. You are not obliged to be the best, but do everything in your own way, and in return you will get a lot of knowledge, some really good people who also wanted to go and settle in another country. You may find the way you have to go again, awake.
Dunja Rilak