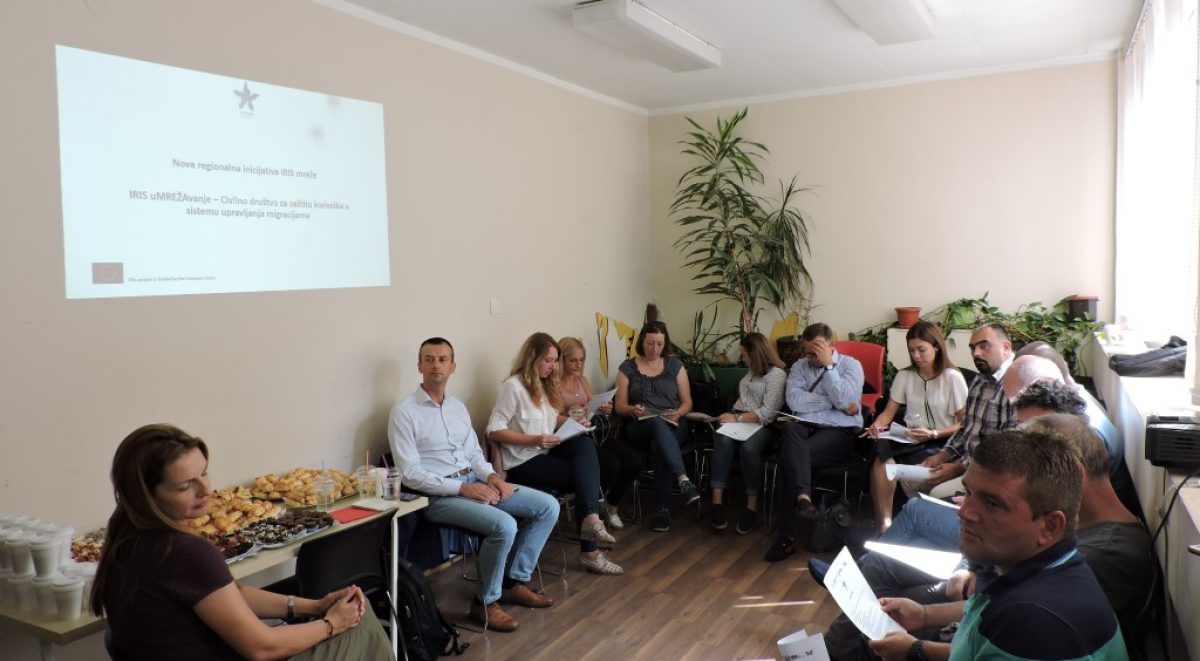 IDC and IRIS network organized a meeting of members of the IRIS network on September 11, 2018, in Belgrade, Serbia.
Within the meeting, members of the network got a chance to hear more about IDC, as the organization that took over the leadership of the IRIS network since December 2017 and will, in the future period, work with the IRIS network to improve the work of members through financial and non-financial support.
New and old network members had the opportunity to get acquainted with the current project cycle, IDC activities, and the activities of the network itself. They have thus been given the opportunity to exchange their own experience in providing social services with their colleagues and develop ideas about potential future cooperation both within the IRIS network and on independent projects.
The future activities of the network within the project IRIS NETWORKing – CSOs for protection sensitive migration management were also announced and presented, such as development of a Guide for organizations that want to get acquainted with the system of social services for migrants, refugees and asylum seekers, academy for young professionals who are at the beginning of their career and grant scheme that is to be announced at the end of the year. The final part of the meeting was moderated by Žarko Šunderić, director of the Center for Social Policy, in order to come up with the best examples from the discussion with the participants and compare the experiences of the organizations.
IRIS networking project within which the announced mentioned activities will be realized will be realized by IDC in partnership with ASB SEE (Germany), LIR CD (Bosnia and Herzegovina), Open Porta – La Strada (Macedonia), ARSIS (Albania) initiative and SOS Podgorica Gora).
The project is supported through the European Commission Program for the consolidation of regional thematic networks of civil society organizations
The meeting and the announced activities are a part of the project IRIS Networking that is implemented by IDC in partnership with ASB (Germany), LIR CD (Bosnia and Herzegovina), Open Gate – La Strada (FRY Macedonia), Initiative ARSIS (Albania) and SOS Podgorica (Montenegro).
The Project is supported through the European Commission Programme Consolidating Regional Thematic Networks of Civil Society Organizations.