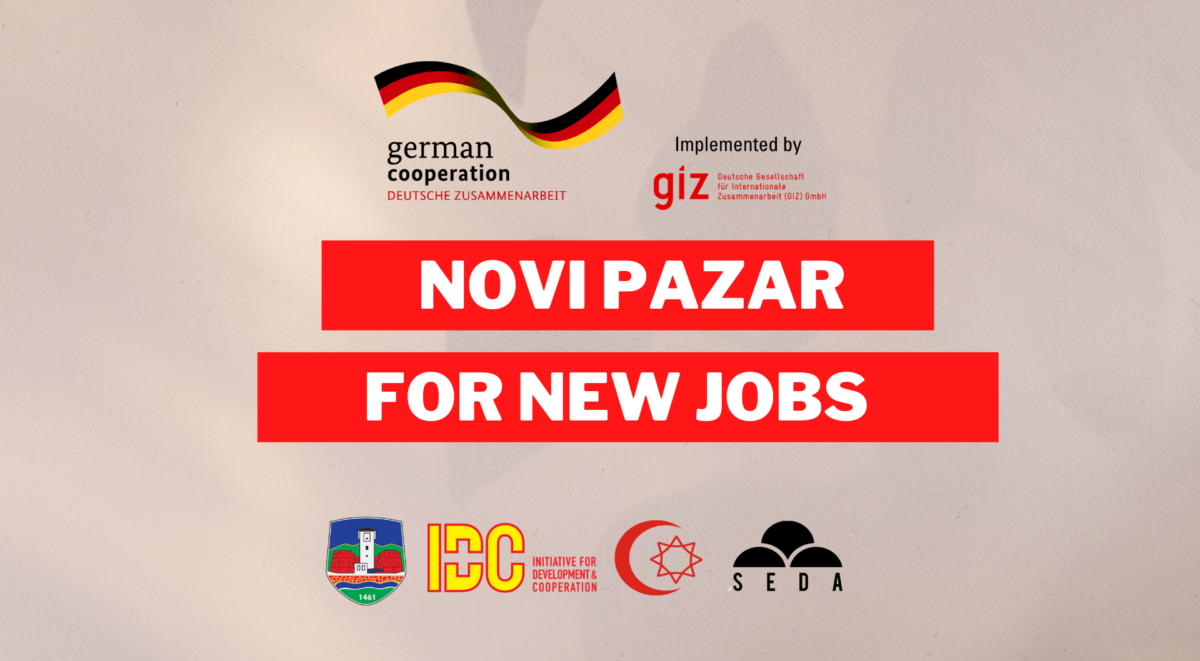 The Commission for selection of beneficiaries of the Project "NOVI PAZAR FOR NEW JOBS" announces:
PUBLIC CALL FOR SELECTION OF UNEMPLOYED PERSONS FROM HARD TO EMPLOY GROUPS, WITH SPECIAL EMPHASIS ON RETURNEES, ROMA AND YOUTH UNDER 30, FOR THE PROCESS OF RAINING OR RETRAINING AND / OR EMPLOYMENT WITH A KNOWN EMPLOYER.
Support under this project component includes:
Retraining and retraining program in order to increase competencies and employability and / or Employment program with a well-known employer and is approved for persons from the category of hard-to-employ, with special emphasis on returnees under the Readmission Agreement, Roma and young people up to 30 years of age, in order to acquire appropriate knowledge, abilities and skills to achieve appropriate competencies and / or employment with a well-known employer.
THE APPLICATION WITH ACCOMPANYING DOCUMENTATION IS SUBMITTED IN PERSON, IN THE PREMISES OF THE REGIONAL DEVELOPMENT AGENCY OF SANDZAK – SEDA, AT THE ADDRESS IN NOVI PAZAR – JULY 7 STREET, NO LATER THAN 18.02.2022. UNTIL 15:00 h.
Public invitation text and forms:
JAVNI POZIV ZA NEZAPOSLENA LICA
PRIJAVA – Javni poziv – NEZAPOSLENI
0. Pristanak na obradu podataka o ličnosti_NP GIZ III
1. Izjava o pripadnosti povratničkoj populaciji _NP GIZ III
2. Izjava o pripadnosti Romskoj nacionalnoj manjini_NP GIZ III
3. Izjava o nezaposlenosti_NP GIZ III
This Public Invitation was published within the project "NOVI PAZAR FOR NEW JOBS", which is implemented within the program Inclusion of Roma and other marginalized groups – Initiative for Inclusion 3, funded by the German Development Cooperation and implemented by GIZ.
The project is being implemented by the City of Novi Pazar in cooperation with the Sandzak Regional Development Agency SEDA, the Merhamet Sandzak Association and the IDC Association.