Today, on November 28th, 2018, at the ceremonial hall of the Municipality of Aleksinac, info session for potential returnees to Kosovo and Metohija was held. Within the info session we presented the project "Return as a step forward".

The Info session, for which the local IDP community showed great interest, was led by the representatives of IDC and Proaktiv with the help of Dragan Jovanović – Head of the Department for General Administration and Social Activities of the Municipality of Aleksinac and Aleksandra Petrović – Trustee for Refugees and migrations.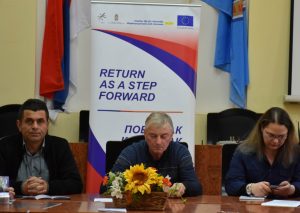 The "Return as a Step Forward" project is designed to provide a comprehensive support to sustainable return to Kosovo and Metohija, and is jointly implemented by IDC, Proaktiv Association of citizens from Nis and the Municipality of Vrnjacka Banja. This project is a part of the wider EU support program for durable solutions for internally displaced persons and  returnees in the total value of 5.65 million euros.
In the local media reports a special attention was given to the free telephone line 0800 / 100-550 aimed at informing potential returnees to Kosovo and Metohija.
As part of the planned project activities, a series of info sessions will continue in the coming period in cities with a significant concentration of the IDP population.