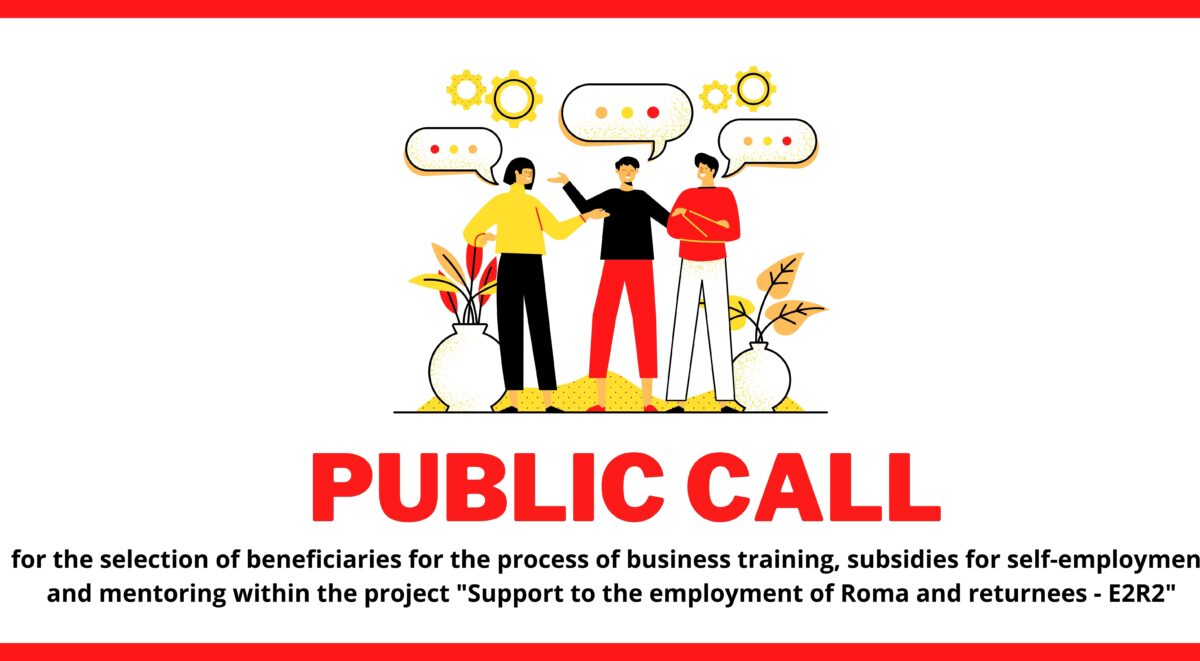 Within the project "Support to the employment of Roma and returnees – E2R2", which is part of a broader program of German development cooperation "Inclusion of Roma and other marginalized groups in Serbia" implemented by Deutsche Gesellschaft für Internationale Zusammenarbeit (GIZ) GmbH in cooperation with the Ministry of Human and Minority Rights and Social Dialogue, the Initiative for Development and Cooperation – IDC, together with the Center for the Production of Knowledge and Skills, announces
PUBLIC CALL
for the selection of beneficiaries for the business training process, self-employment subsidy and mentoring support
The support envisaged by the Project includes:
1. Business training – training for starting your own business or increasing the volume
own business / agricultural production and development of individual business plans for at least 60 beneficiaries;
2. Subsidies for self-employment through the provision of machinery, equipment and
raw materials for starting your own business in accordance with individual business
plan, an average of 2,000.00 euros (excluding VAT) for 15 beneficiaries;
3. Mentoring business support and business consulting for the implementation of individual
business plans.
Who is eligible to apply?
Returnees, Roma and members of other hard-to-employ groups and members of their family households who have a residence / stay in the territory of one of the beneficiary municipalities IDC: City of Belgrade, City of Vranje, City of Leskovac, City of Subotica, Municipality of Sid, Municipality of Presevo, Municipality Bujanovac, Municipality of Osecina; CPZV: City of Novi Sad, City of Sabac, Municipality of Titel, Municipality of Beocin, Municipality of Zabalj, Municipality of Kula, Municipality of Stara Pazova, Municipality of Backa Palanka.
Returnees within the meaning of this Ordinance are persons who have resided abroad (Germany or another country) for more than three consecutive months (the reason for the residence may be an asylum, work, studies, professional development or any other) and who have returned to their country of origin.
Members of the Roma national minority in the sense of this Ordinance are considered to be persons who are voluntarily and independently declare that they are considered a member of the Roma national minorities.
For the purposes of this Ordinance, members of other hard-to-employ groups are considered to be young people up to 30 years of age, redundancies, over 50 years of age, unqualified and low-skilled, persons with disabilities, Roma, able-bodied beneficiaries of social security benefits, the long-term unemployed (on record for more than 12 months, and especially the unemployed persons looking for a job for more than 18 months), young people in dormitory accommodation, young people in foster care families, young people in foster families.
The text of the Public Invitation, the application forms can be downloaded below:
JAVNI POZIV o izboru korisnika projekta_GIZ_IDC-CPZV_FINAL
0. Saglasnost za obradu podataka o lučnosti GIZ IDC_CPZV
1. Izjava o povratničkom statusu GIZ IDC_CPZV
2. Izjava o pripadnosti Romskoj nacionalnoj manjini GIZ IDC_CPZV
3. Izjava o nezaposlenosti GIZ IDC_CPZV
THE APPLICATION WITH ACCOMPANYING DOCUMENTATION IS SUBMITTED IN PERSON, IN THE PREMISES OF IDC, KHC, OR BY MAIL AT THE ADDRESS OF MILANA RAKICA 65a, BELGRADE, NO LATER THAN 11/04/2022 AT 15:00.