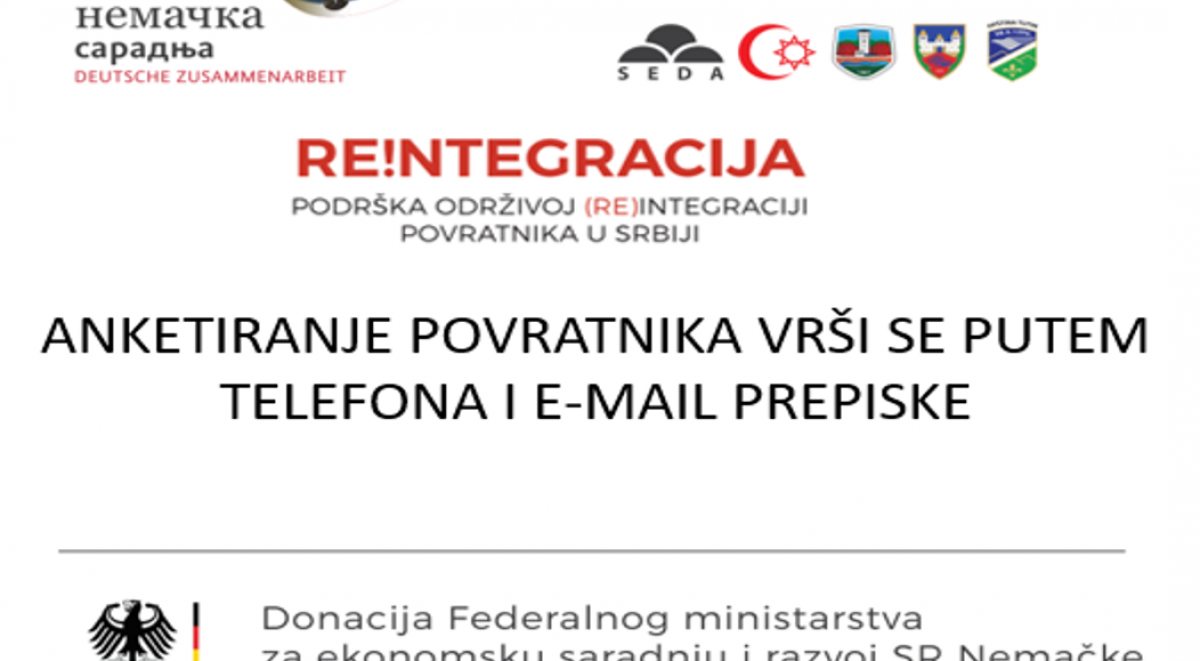 Reintegration – support for the sustainable (re) integration of returnees to Serbia
Interviewing returnees – change in activity
Announcement
In accordance with the new situation, interviewing within the project Reintegration – Support for Sustainable (Re) Integration of Returnees to Serbia will be conducted by telephone and e-mail correspondence in the coming period. Surveying is an activity in which information is collected to identify users' needs in the field as accurately as possible.
We invite all returnees to contact the following phone numbers and e-mail addresses to inform themselves about the project activities and to complete the questionnaires.
Collecting information through questionnaires will be done by the Re!tegrate team:
Senida Hajdarević, 063/82 57 655, e-mail:hajdarevicsenida@gmail.com
Azra Mavrić, 064/488 35 52, e-mail: mavric89@gmail.com
Enes Hukić, 060/0307 315, e-mail: hukic@seda.org.rs
Fazila Ferizovic, 062/8428 242, e-mail: tutin@seda.org.rs
Anida Mujović, 064/8096 799, 020/741-633
The project is funded by Bundesministerium für wirtschaftliche Zusammenarbeit und Entwicklung (BMZ) – German Federal Ministry for Economic Cooperation and Development BMZ and lasts for the next two years.
The lead organization is Arbeiter-Samariter-Bund (ASB Serbia), while the leading implementing agency is Inicijativa za razvoj i saradnju (IDC), and the partners in the project are grad Novi Pazar, opština Sjenica, opština Tutin, in partnership with Regionalna razvojna agencija Sandžaka SEDA and Muslimansko humanitarno društvo Merhamet – Sandžak.