On Thursday, January, 18th, we have officially signed the partnership agreement and announced call for beneficiaries within the project Plant for community in the Municipality of Lucani.

Mr Miodrag Nedeljkovic, executive director of IDC  and Mrs Vesna Stambolic, President of the Municipality of Lucani have offiicially signed the partnership agreement on the joint implementation of the project.  The project was financed by the Municipality of Zolikon from Zurich, which allocated 25,000 CHF. Rest of the funds were provided from the Municipality of Lučani, which will allocate 15,000 CHF from its funds.
The project aims at socio-economic empowerment of about 15 households (a total of 3 ha of land) from the territory of Lučani through the raising of complete raspberry plantations on up to 20 acres per household. Selected beneficiaries will be provided with theoretical and practical training on the cultivation of raspberry. They will then receive seedlings and other materials needed for establishing their plantations, including irrigation systems. During the planting and cultivation process, the selected beneficiaries will have the advisory support of the project team and experts from the Čačak Fruit Institute.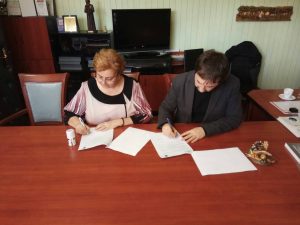 Representatives of IDC and the Municipality of Lučani invited the inhabitants of Lucani to apply for the funds when signing the contract. Application forms and assistance in filling in the application are available to them every working day in the Department of Agriculture of the Municipality of Lučani. The call will be open from Monday, January 22nd to Monday, February 5th, 2018, at 3 pm. A public call, through which the interested parties will be able to be informed about the criteria and the documentation required for the application, will be published on the website and bulletin board of the Municipality.