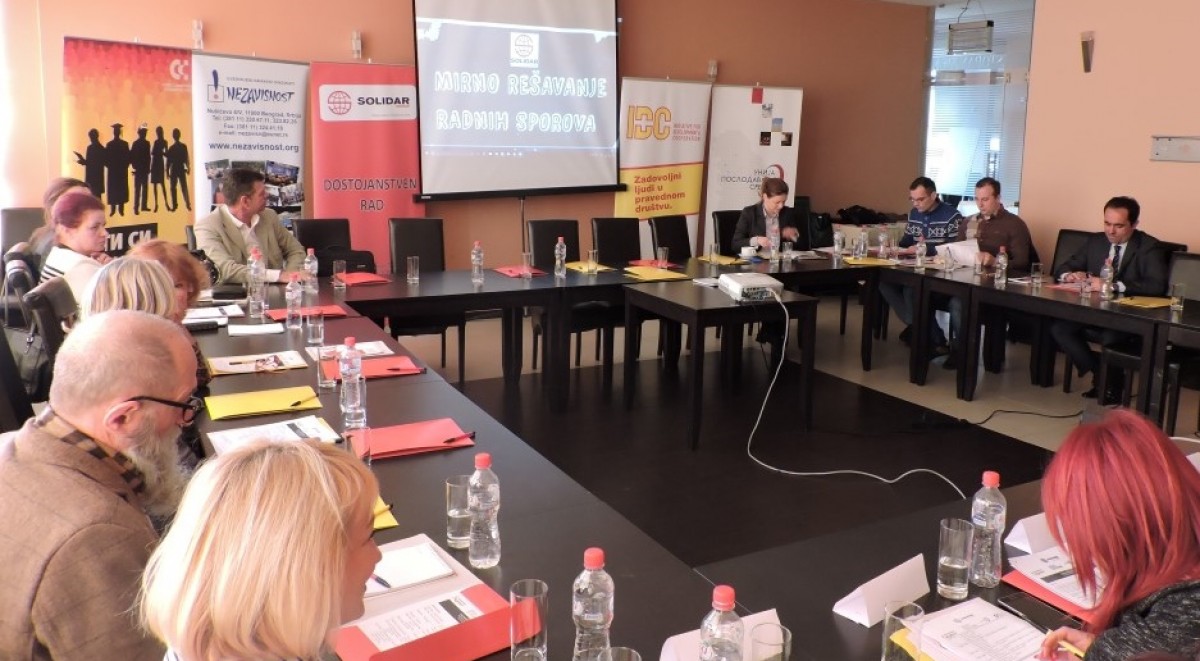 The "Peaceful resolution of labor disputes" conference
The final conference completed another cycle of joint efforts to increase visibility and strengthen the institute of peaceful resolution of labor disputes!
Belgrade, November 29th, 2016
Although the Law on the peaceful resolution of labor disputes was adopted in 2004, various factors and circumstances influenced the fact that this institute remained insufficiently visible and affirmed in our country after more than 10 years. The Citizen Association  "Initiative for Development and Cooperation" from Belgrade, together with the United Trade Unions of Independence, the Union of Independent Trade Unions of Serbia and the Union of Employers of Serbia, has been actively working to increase the visibility of this institute for over four years and to overcome the existing limitations due to the lack of information and mistrust by employees and employers, poor visibility of the Republic's Agency for the peaceful resolution of labor disputes, shortcomings in the legislative framework, etc., which affected the fact that judicial protection remains the primary form of protection of employees' rights.
Within the "Social Partners together for the improvement of labor legislation in the Republic of Serbia" project, funded by the Swiss Foundation – Solidar Suisse, Office in Serbia, the CA Initiative for Development and Cooperation and the Implementing Partners have successfully implemented workshops in Ruma, Smederevo and Valjevo for more than 60 participants. Participants had the opportunity to become familiar with all stages of the process through practical examples, participating in the simulation of conciliation / arbitration through cases raised by the arbitrator / conciliator. In addition to raising the level of awareness through workshops, the greatest scope of the project is the fact that the Recommendations for amending the Law on the peaceful resolution of labor disputes, developed by our expert team, are in the framework of the Draft Law on Peaceful Settlement of Labor Disputes.
The final conference, which was held at the hotel "Srbija" was opened by the Assistant Minister of Labor and Social Affairs Zoran Lazić, after which the participants of the discussion were also the Director of the Republic Agency for Peaceful Resolution of Labor Disputes, Mile Radivojević, and representatives of the CA Initiative for Development and Cooperation. Executive Director Miodrag Nedeljkovic, and Project Coordinator Jovan Miranovic.
During the conference, the participants had the opportunity to directly ask questions to project partners, lawmakers, arbitrators, representatives of the Ministry of Labor, Employment, Veterans' Affairs and Social Affairs, representatives of the Republic Agency for peaceful resolution of disputes, as well as to gain insight into the institute of peaceful resolving of labor disputes itself, and its advantages in relation to judicial settlement of labor disputes.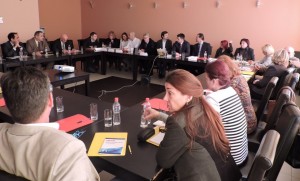 Participants pointed out that the greatest contribution of the project was to bring together all relevant stakeholders, build partnerships and the interested parties' joint work and assessed that it was still necessary to work on visibility and recognition of this institute.