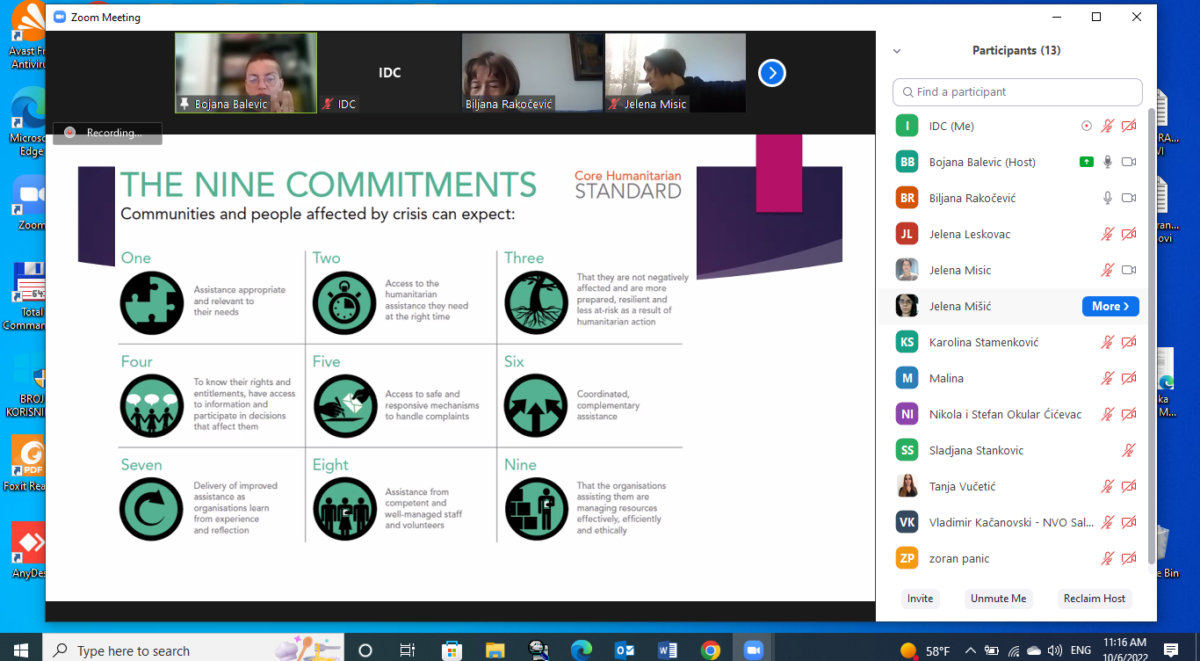 Training for volunteers – Responding to a humanitarian crisis
On October 6 and 7, 2022, a two-day online training on Responding to a humanitarian crisis was organised via the Zoom platform. The training was intended for volunteers in order to raise awareness of basic humanitarian principles, as well as an adequate response to various forms of humanitarian crises.
A total of 15 volunteers from Serbia (from Vranje, Pirot, Valjevo, Šabac, Belgrade, then the Municipality of Ćićevac, etc.) and Bosnia and Herzegovina (Doboj) participated in the training.
Volunteers of civil society organisations who attended the training additionally increased their knowledge about responding to crises, which they can directly apply in their work environment and pass on to their colleagues, friends and other volunteers. They improved their knowledge of basic humanitarian principles, as well as gender-based violence in the context of migration and child protection. The training was attended by volunteers who are engaged in distributing humanitarian aid to refugees from Ukraine and volunteers from member organisations of the IRIS network.
The training was held as part of the project Preparing mechanisms to respond to the increased influx of refugees from Ukraine, which is implemented by the Initiative for Development and Cooperation, with the financial support of Farma Mundi, Spain.