Erasmus+ project "Inclusive first aid" activities
The third project meeting on the project Inclusive First Aid (INFA) has been organized in Kiel (Germany) on the 14th and 15th of October 2023 to present the case studies of German aid and welfare organization Arbiter Samariter Bund (ASB) in the field of inclusive first aid courses. IDC members had an opportunity to gain knowledge and get familiar with the peculiarities of providing inclusive first-aid courses.
Presentation of the two case studies:
The first case study – The First-Aid courses for children of preschool or school age:
ASB training emphasizes immediate response measures tailored to pediatric emergencies, ensuring that children are equipped with the knowledge to handle situations and that they can perform life–saving measures. These training sessions cover practical hands-on techniques based on their experiences and promote awareness of potential hazards in children's environments, aiming to respond to emergencies promptly.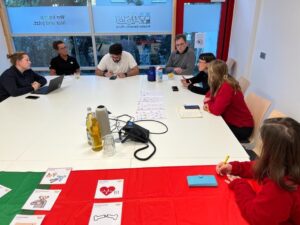 The second case study – The First-Aid Courses for people with blindness and visual impairment / ASB Berlin
ASB recognizes the unique challenges individuals with visual impairments face and has tailored first-aid training courses to empower them with essential skills. These specialized courses emphasize tactile and auditory techniques, enabling participants to assess and respond to emergencies efficiently despite their visual limitations. Additionally, ASB's training for blind and visually impaired individuals focuses on fostering confidence in first aid application, leveraging other senses, and utilizing assistive devices or technologies to ensure the safety and well-being of both the first-aider and the patient.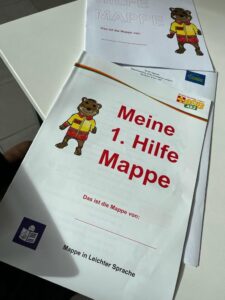 Discussions
Following the presentations of the case studies, the representatives of the project partners critically evaluated the presented first aid courses, sharing feedback and personal experiences. Through collaborative discussions, they identified areas of improvement, brainstormed innovative teaching methods, and suggested enhancements to make the courses more effective and accessible for diverse public and target groups.
More about the project: https://idcserbia.org/en/projekti/inclusive-first-aid-infa/